Due to an increase in shipping costs weight gainers 10lb and over are subject to a flat shipping rate of $15.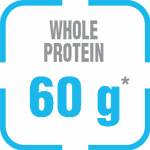 60g Whole Protein
When we say BIG TIME contains 60g of protein, we really mean 60g of protein. Absolutely no amino-acid spiking or cheap fillers to give you a false number. Whole protein is what your body needs to get the full 9 essential amino acids for muscle repair after a hard day's work in the gym.
Clean Calories
Amateurs eat anything and everything to gain weight. But you're an elite athlete - you know better. A high-calorie + clean-calorie supp is what you want. BIG TIME gives you exactly that: quality & quantity. Think 900+ calories from real food sources like quinoa, sweet potato, and inulin.
9g Sugar
Sugar – it's bad for your gut and body. BIG TIME contains only 9g of sugar per 4 scoops. But, less sugar doesn't have to equal boring taste. With 3 decadent flavours (Triple Chocolate Sundae, Vanilla Frosting, Cookies & Cream), you can enjoy amazing taste without the insulin spike.
Big Time
Determining your ideal carb-to-protein ratio is a tricky game. Many co-factors like body type, size, and weight are involved. But when it comes to bulking, a 2:1 ratio is the industry standard and we've stuck by it. Inflated ratios like 5:1 or 4:1 are nothing more than a cheap tactic to increase calories.
Transform yourself into a powerhouse of strength with a quick dose (5g per 4 scoops) of the good stuff (Creatine). No matter what type of exercise you throw at your body, you will come out victorious. And once you get a taste of the good life, you'll never go back.
A surge in muscle mass equals a surge in muscle tissue. You can now be the lean, mean, muscle-making machine you strive to be. BIG-TIME helps build and repair tissue so that your body wakes up recharged, ready to repeat the drill in the field, arena, or gym.
In the world of sports supps, nutrition is key but taste is king. With every product we create, we follow this crucial rule to score high on the flavour scale. Try our decadent flavours (Triple Chocolate Sundae, Vanilla Frosting, Cookies & Cream) and get hooked.
Don't be slowed down by a formula that takes forever to mix into your drink. BIG TIME gives you convenience with every scoop. Whether it's 2 or 4 scoops – the formula mixes easily into liquid, helping you provide your body with the calories, fats, and carbs it needs to bulk.