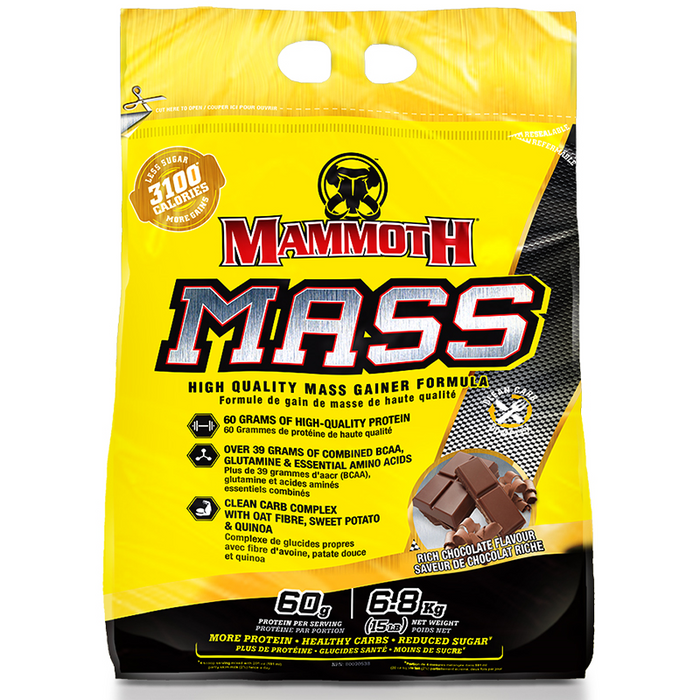 Due to an increase in shipping costs weight gainers 10lb and over are subject to a flat shipping rate of $15.
MAMMOTH MASS Weight Gainer provides more protein, better carbs and far less sugar giving you more of what you want in a potent mass muscle building formula. With 60 grams of the finest whey protein isolate, whey protein concentrate, micellar casein and calcium caseinate available, combined with the MAMMOTH Clean Carb Complex featuring Quinoa, Sweet Potato, Oat Bran, it will have you primed with clean quality calories for MAMMOTH gains!
Mammoth Clean Gains Protein Blend

Whey Protein Concentrate, Whey Protein Isolate, Micellar Casein, and Calcium Caseinate.

Helps increase muscle growth by rebuilding torn down muscle fibers from intense workouts



Mammoth Clean Carbs Matrix

Oat Fiber, Sweet Potato Powder, Quinoa Powder

Clean carbohydrates to aid in energy production and glycogen replenishment.

MCTs | Coconut

Healthy fats that help fuel the brain and can be used as an efficient energy source.