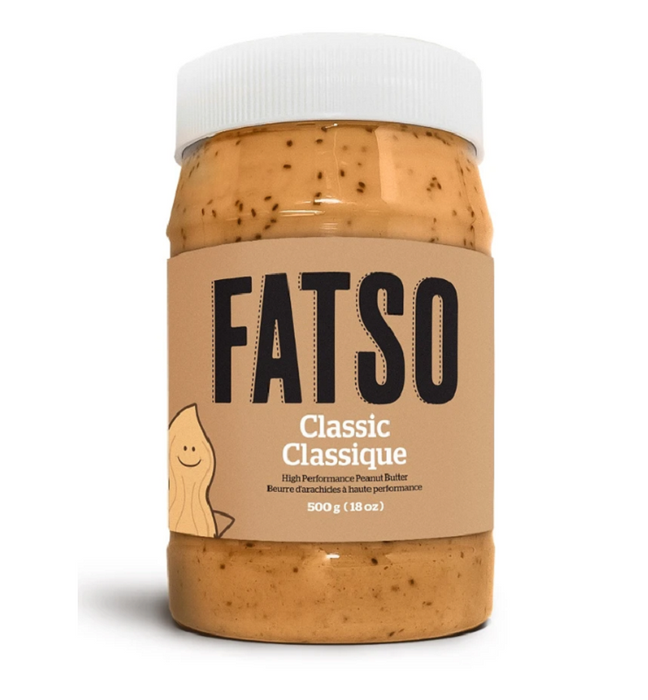 Description
Fatso High Performance Peanut Butter is an all-natural peanut butter hybridized with "superfats" such as coconut oil, avocado oil, MCT oil, chia, flax and the natural sweetness of tapioca starch which acts as a prebiotic fibre.
Up your PB game by adding Fatso to smoothies, blending it into your morning coffee, or just get real with yourself and eat it straight out of the jar.
Gluten Free
High Protein
Vegan Friendly
Keto & Paleo Friendly
High Fibre
Let's take the fear out of fat: Fat is a vital form of fuel for optimal human performance and provides the energy needed for a full and functional life . 
There – NOW STOP WORRYING AND GRAB A SPOON!
ESSENTIALLY, FATSO=LIFE. Our bodies use the fat we consume and the fats we make from other nutrients in our body to provide energy for many of the functions we carry out in our daily life.
FATSO WILL HELP YOU OUTLIVE YOUR ENEMIES. Eating foods rich in fatty acids improves blood cholesterol levels, which can decrease your risk of heart disease
    
FATSO CAN BE YOUR HERO, BABY. Essential fatty acids are the dietary fats that are essential for growth development and cell functions, but cannot be made by our body's processes.
        
EAT FATSO, GET SMART. Saturated fat is one of the main components for brain cells and is necessary for healthy brain function.
    
FATSO - YOU LOOKING ALL SORTS OF GOOD. Fat helps to maintain healthy skin and tissues. All of our cells need to contain some fats.
Super Fats
Fatso is all about fat. Good, nutritious, life-giving super fats.
Coconut Oil: Increases healthy cholesterol, decreases bad cholesterol. Boosts digestion and heart health!
Avocado Oil: High in oelic fatty acid which is good for blood pressure and fat burning.
MCT Oil (medium chain triglycerides): good for your brain, great for digestion.
Chia Seeds: High in omega 3, protein, and antioxidants.
Flax: High in omega 3.
Fiber is Sweet 
Fatso uses an all-natural, low calorie sweetener that also acts as a prebiotic fiber. Made from tapioca, this soluble fibre helps to encourage the growth of healthy gut bacteria and provides a light sweetness without any sugar or sugar alcohols. 
Ingredients:
Original: Peanuts, coconut oil, tapioca fiber (isomalto-oligosaccharide), avocado oil, chia seeds, ground flax seed, MCT oil (medium-chain triglycerides), natural coconut flavour.
Cocoa: Peanuts, cocoa butter, unsweetened chocolate, tapioca fiber (isomalto-oligosaccharide), ground flax, chia seed, sunflower lecithin, MCT oil (medium-chain triglycerides).
*Disclaimer
These statements have not been evaluated by Health Canada or the FDA. This product is not intended to diagnose, treat, cure, or prevent any disease.