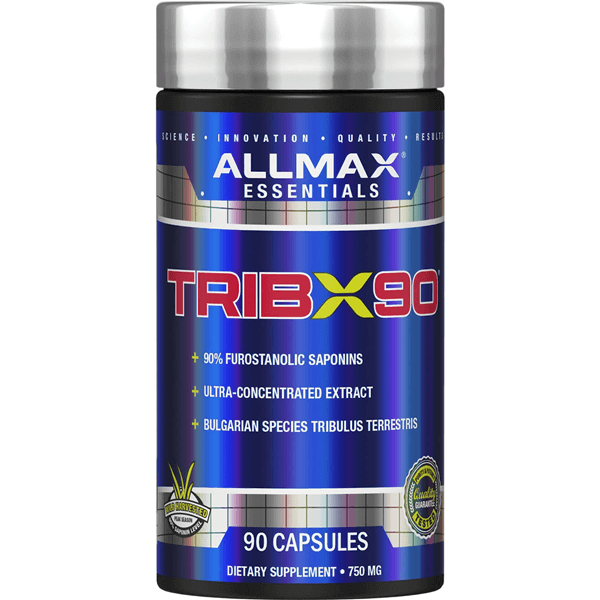 THE ULTIMATE IN POTENCY, PURITY AND RAW TRIBULUS POWER
ALLMAX Nutrition now provides you with the highest quality in pure Bulgarian Species Tribulus Terrestris with TRIBX90®. Laboratory tests have confirmed high levels of Steroidal Saponins at 90% using UV Spectrophotometry Absorption testing.
More Product Info
Scientific research has suggested that it may stimulate the body's production of luteinizing hormone which in turn promotes the production of Testosterone, the key male hormone responsible for helping to add lean body mass, increase metabolism and support healthy libido or sex drive levels. Studies on Tribulus are ongoing to this day.*
Each capsule contains a minimum of 90% Saponins – Double that of other Tribulus products.
The source herb in TRIBX90® has been wild harvested by hand at peak season (just one specific month of the whole year!) to ensure the absolute highest levels of total concentrated alkaloids, a full 90% steroidal saponins – the purest and most concentrated active of phytochemicals! Other lesser source tribulus products on the market are most often at most 40 to 45% saponins. Experience the power of wild crafted Tribulus backed by clinical laboratory testing. You can always trust ALLMAX to bring you the highest in quality and potency.*
Tribulus has become increasingly popular among athletes because it reportedly increases strength and stamina. Helps support a healthy sex drive naturally and may alleviate tired, weak, moody feelings. Clinical research has shown that Tribulus Terrestris may support healthy libido function in humans, and that it may also support healthy blood pressure and healthy cholesterol profiles already in normal range.*