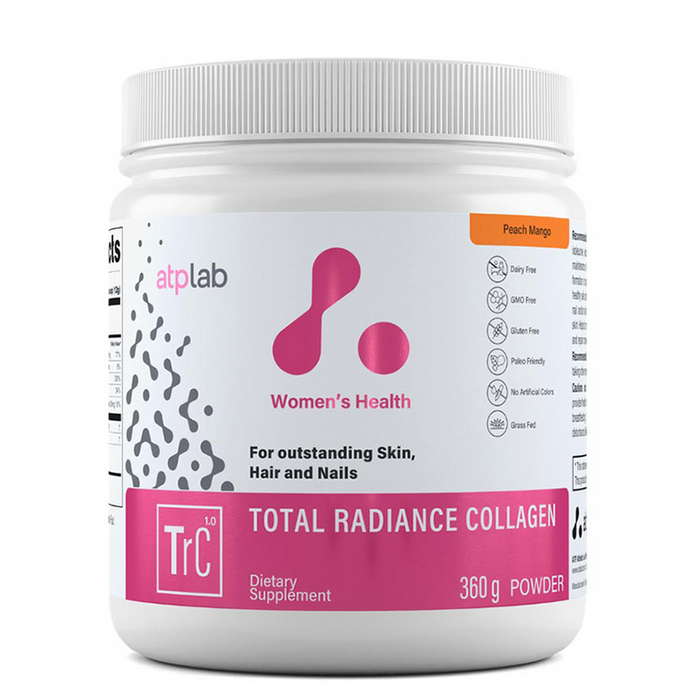 ATP Total Radiance Collagen 360G
Although collagen is naturally produced by the body, research tells us that collagen supplements provide significant health and aesthetic benefits.
Collagen production slows as we age, combine this with daily exposure to ultraviolet(UV) radiation and environmental pollution and you may find that collagen productionfails to meet the body's demands. It's this process that makes us susceptible to premature aging, cellulite, and sore, worn out joints.
Total Radiance Collagen contains pharmaceutical-grade hydrolyzed collagen peptides, which have been shown to significantly increase the body's collagen and elastin production.
Studies illustrate that daily collagen supplementation can:
Increase skin health
Decrease visible signs of aging like crow's feet and wrinkle
Decrease the appearance of cellulite.
Decrease arthritic joint pain

Collagen Type are Found:
Type I Skin, tendons, blood vessels, ligaments, organs, bones, skeletal muscle.
Type II Cartilage
Type III Bone, nails, dentin, tendons, cartilage, bone marrow, skeletal muscle. Although collagen is naturally produced by the body